Manchester Alloys & Metals Ltd was established in 1988, supplying both ferrous and non ferrous metals to a variety of manufacturing and engineering clients in various industries.
Our Group of Companies are totally committed to high levels of service and customer care. We offer a competitive pricing structure for a wide range of stocks that can be processed and delivered as and when you require.
We recognize that the success of any company depends upon the quality of the products they supply and also the way in which the goods and service, satisfy or exceed customer requirements and expectations.
Our company is totally committed to providing a customer focused service. We aim to be 100% reliable 100% of the time.
Quality Assured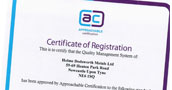 Our group of companies are approved to BS EN ISO9001:2015
Contact your nearest branch today for a speedy quote...